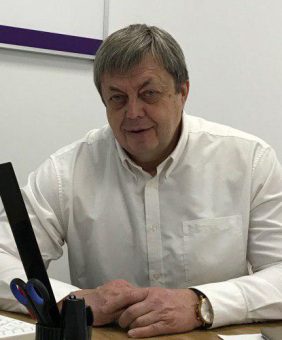 Voy̆tsekhovskyy̆ Viliam Eduardovych
Honored Doctor of Ukraine, orthopedic traumatologist of the highest category, doctor in sports medicine.
1981-1983 рр.
Дитячий травматолог ортопед у Вінницькій Обласній Дитячій Лікарні
1983-1996 рр.
Працював хірургом, начальником хірургічного відділення, начальником міжобласного госпіталя МВС.
1996 - 2019 рр.
Лікар-травматолог екстреної медичної допомоги вінницької обласної дитячої лікарні.
з 2019 р.
Лікар-травматолог екстреної медичної допомоги вінницької обласної дитячої лікарні.
Освіта
1974-1980 рр. навчання у ВНМУ ім. М.І.Пирогова.
1980-1981 інтернатура в Житомирській обласній лікарні по спеціальності дитяча хірургія
Наукова діяльність
Є автором 11 публікацій, має друковані видання.
Стажування, конференції, семінари
2001 – атестований виїзними курсами УЕФА по спортивній травматології в місті Києві.
2018 Прийняв активну участь у першому міжнародному навчальному курсі з дитячої травматології м.Київ.
2012-2015 лікар команди WSB(всесвітня серія боксу) "Українські Отамани".
2019 травень переатестація на вищу категорію дитячого лікаря ортопеда.
Напрями діяльності в SPINEX
Дитяча ортопедія, спортивна медецина
All doctors
Fixing an Appointment
We will call you back within 30 minutes and clarify all the details